By Michael Reed
It was the talk of the town. Anyone who was there remembers seeing it. There have been many awe-inspiring moments on the UD Arena floor over the years, but for the sheer emotion of the moment perhaps nothing tops the real life marriage proposal during the 2015 Matrix production "Mine."
Zachary Sterling and Alyssa Iwinski share a love of percussion which grew into a deep love for each other. Both still felt the urge to perform after high school, and marched in both drum and bugle corps and indoor percussion in college. This coming weekend, the pair will walk the aisle together to celebrate their wedding day.
Zachary explained how their relationship began. "We met when we marched Gateway Indoor in 2014. We got along really well and started dating in the middle of the season, and continued dating when we marched drum corps the next summer." Alyssa competed in Phantom Regiment and Zachary marched in the Madison Scouts that summer.
Joey Martinez, currently a staff member for Pulse, was a Bass Tech in the Regiment drum line that year. He remembered "anytime we had a show together, she would rush to go find him. I could tell they were in love just seeing how excited they were to see each other."
After that summer, Zac intended to focus on academics. "We hadn't planned on marching. Alyssa got a call from her friend who's a staff member at Matrix. She went and said 'it's amazing' and told me there was a spot that had opened up. I went and it was the best decision of my life. These are people I'll call friends for the rest of my life."
Before Zac decided to pop the question, he talked with Matrix Director Rob Ferguson. "I told Rob I wanted to get engaged and said 'wouldn't it be really cool if I could involve the group, maybe after Finals' and he said 'No way, we're doing it in the show. It's perfect. It fits the concept.'" Ferguson grinned when thinking about wedding possibilities in a Matrix show: "We couldn't make it happen this year (2016) because they aged out. Otherwise we would have married them on the floor."
It took a lot of planning and sleight of hand to keep the secret from Alyssa. All season long, Zac would do a fake proposal near the ending while a recording of his voice said "This is Alyssa, and she is mine." For Finals night, the recording had "Tonight, this is for real" added. That meant he recorded two voiceovers on the morning of Championships.
Ferguson talked about how harrowing that extra few seconds of voiceover was to get just right while keeping the gambit up. "Our sound engineer cut the vocal so we had one key on the sampler for each. We had to run it with the test vocals to get the levels right and handle the space because we had to add counts to make it happen, which is always scary on Finals day."
Alyssa explained how they kept the secret during the Finals morning rehearsal. "Rob told me they were adding it in because one of the judges thought that it needed an extra explanation of what was happening. At the time I didn't know because everyone was making sure that second audio clip didn't go off. Looking back, I understand now why there was so much tension in the room when they were trying out those audio clips."
While Alyssa was still in the dark, a number of people were aware of what was going to transpire. Martinez was working with Pulse, but made it a point to be inside for the big moment. "I remember I left my warmup. I ran in and just watched it from the stairwell. I cried. It was just an amazing moment."
Iwinski recounted what went through her mind when the proposal occurred. "Actually, when I was on the floor, I didn't hear the audio clips. We were talking. Usually we were smiling at each other and looking all happy, and Zac was white and not smiling at me at all, so through my teeth I told him 'honey, you've got to smile.' We get about half way down (to the front) and he says 'I can't do this. This is for real. Right now, this is real.' And I turned and said 'What!?'
We're both still doing the big cheesy smile and he said 'This is real. We planned it all indoor season.' That's when the audio's happening and the next thing I know he's down on one knee. We had been rehearsing with this ring that he had gotten me for our first Valentine's together, and he opens up the box and the engagement ring was in there instead."
Zac smiled as he recalled "I've done a lot in the marching activity, so when I got to that evening it didn't feel that different to me. However, when I talk to Rob Ferguson, he says 'you were looking terrified,' and I had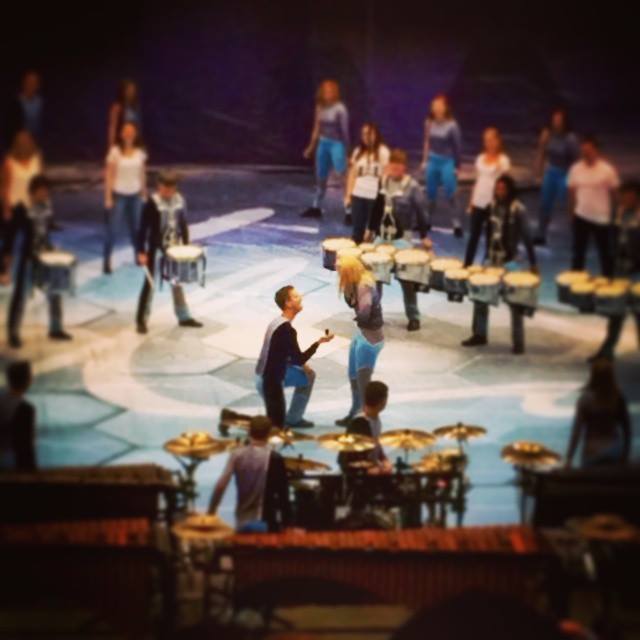 no idea I was trying to hide it."
Coming up with a guest list was not easy. Alyssa indicated "One of the hardest things we had to do was narrow it down because our original guest list was about 700 people. We've done our best and got it down to 320 invites." Zac added "She marched 8 seasons of indoor and 2 of outdoor, and I had done 5 of outdoor and 2 of indoor, so the amount of people we've got connections with in the activity is massive."
As for future plans, she indicated "I'm getting my doctorate in Physical Therapy, and Zac is in school to get his Law Degree and is also getting his Masters in International Business, so we've got a couple more years in school and then I think we'll see where our jobs take us." If their success on the floor is any indication, the soon-to-be newlyweds have a rosy future together.
Congratulations Zachary and Alyssa from the entire WGI family. We wish you nothing but the best as you build a life together!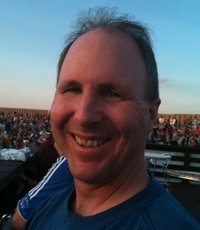 ---
About the Author: Michael Reed provides online and print media content for WGI, Bands of America, and Drum Corps International. 2016 marks his fifteenth year of writing for WGI. He is an active music arranger, composer, and all-around avid pageantry fan. Michael was a member of the Cavaliers Drum and Bugle Corps and holds a bachelor's degree in music composition and music education from Ball State University. He currently works in the health care field and resides in Fishers, Indiana.