In our "WGI Archives" Feature Series, we take a look back at feature stories from past print copies of FOCUS Magazine! In this archive snapshot, we revisit Northview High School's 2012 performance "Queen of the Coop", first published in the Spring 2012 WGI FOCUS Magazine.
---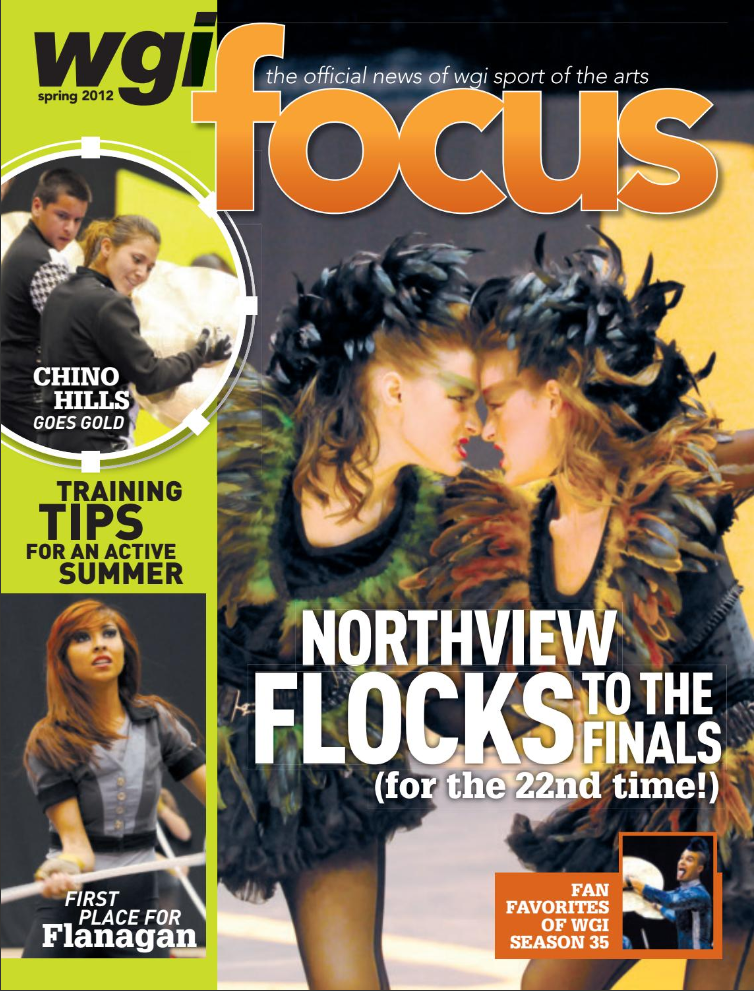 ---
Some unusual sounds were emanating from the gym this past winter at Northview High School in Brazil, Indiana, as the color guard practiced for what they hoped would be their 22nd finals appearance at the WGI Color Guard Championships. Under the guidance of longtime director Ruth Ann Medworth, this year's Northview show, "Queen of the Coop," was both complex and quirky, combining music from the Mozart opera The Magic Flute (whose central figure is called the Queen of the Night) with a chanteuse singing in the parlance of…a chicken.
"It has a classical feel to it, but then it's somewhat comedic too, in that the guard members do some chicken talking," Medworth says. "It's a playful year for us. You don't want to be so campy you're not taken seriously, but we continually try to add to the fun aspect of the show. I think that's what the judges and the spectators want—a little bit of chicken."
Medworth, who was inducted into the WGI Hall of Fame last year, knows a thing or two about what pleases crowds. In her 35-plus years working in the color guard realm—almost 15 of them as vice president of WGI—she's seen trends come and go. Every year, every competition, she gleans a few pearls of wisdom.
---
"You want to try to do something that's of the time, but still maintain your own identity," she says. "We have a history of trying new things, but the bottom line is you always have to be good at what you do."
Northview also has a history of success. The color guard did indeed make it to the finals for the 22nd time ("Queen of the Coop" took 14th place in the 2012 Scholastic World class). Medworth describes this year's group—a mix of upperclassmen and first-timers—as "even-keeled and pretty drama-free… We work hard, and we try to do everything we can to make them have a great experience. We hope they'll come back – even the ones who are graduating."
In fact, it was Northview color guard grads who gave Medworth one of the most cherished memories in her lengthy career. After years of trying to stage a reunion, alums from last year all the way back to 1985 returned to campus for a halftime show in January. Some who were local got in a few practices; others who came from out of town got in only the dress rehearsal before the game.
"I didn't know what to expect. I thought we'd have a few old girls, but when all was said and done, we had 48 who came back from all those years," Medworth says. "Many of them changed their Facebook profile picture to show them in their costumes, and that's the ultimate sign they had a great time. They're making plans to do it again next year."
---